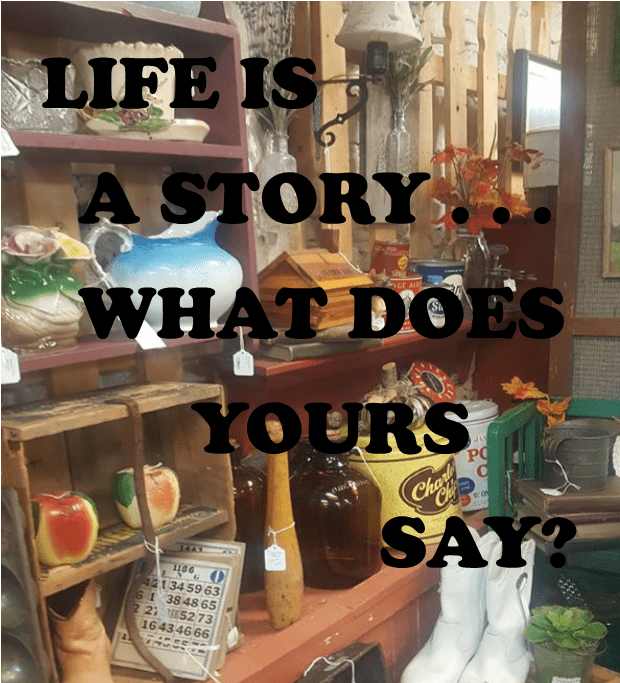 "One man's trash is another man's treasure."  – English Proverb
I couldn't help but smile as I inhaled the slightly musty odor greeting me as I walked down the wooden steps. While on a trip in Michigan, Hubby and I happened upon a surprising discovery of an antique shop in the basement of the gift shop we'd been wading through. For me, there's nothing more delightful than to wander through stewed aromas representing rooms full of used merchandise. I'm not referring to any disgusting smells here, but rather, more like the scents of Grandma's attic . . . years of different, interesting items put together all in one place.
The idea behind the English proverb above is that something one person may consider worthless may be considered valuable by someone else. If you've ever spent time rummaging through a thrift store, pawing through a bargain box, or perusing antique shops, you'll understand this English proverb to be true.
This particular "rummage" proved more exceptional for me than most, due to the sheer mass of various collections demanding my attention. As I shuffled across the uneven cement of the brick floor searching for some proverbial diamonds in the rough, every corner held a new surprise of furniture, dishes, books, wall hangings, and a plethora of memorabilia.
Studying the dainty floral patterns on some fine, delicate china it struck me that the dishes were in pristine condition with a high dollar value assigned to them. Then, along side of the china display were several stacks of books, carefully staged together, tied off with a thin line of rope. The books appeared a bit damaged and dirty, clearly timeworn relics whose value lay in their titles alone. Continuing, I examined antique photographs, flour sifters, a beat-up old trunk, canning jars, a wooden lighthouse, and a set of Raggedy Ann and Andy dolls. Oh, and my favorite was a worn-out bait bucket, the kind I haven't seen the likes of in decades but was quite familiar with, thanks to my fisherman grandpa.
I suddenly wondered . . . if that bait bucket could speak, what tales would it tell?
I was overjoyed to be taking in this whole scene however, I found myself beginning to look at things a bit differently. As I surveyed several sparkling, polished items I was also drawn to those objects that were gently used, worn, or tattered. Then it dawned on me.
Each of these items had a story to tell.
Who was the woman and young child in the black and white photograph, and why was the woman holding the child's face in her hands? Whose china cabinets were graced by the set of Haviland cups and saucers, and were perhaps passed down several times over before landing in this shop? Where had that beat-up, old trunk traveled, and under what circumstances? How many children held you close and plopped you down for a tea party, Raggedy Ann and Andy? Gingerly tracing the pronounced chip on a Blue Delft serving plate, it occurred to me that, knowing the story behind each of these items would make them even more valuable. To know what each item has weathered, where they'd been, and why they were here now in this basement would pique my interest, give me insight into the objects' character, and would help me to personally identify even more with it.
Hmmm . . . we are so like those objects, aren't we?
Every single one of us has a story, and despite what you may think, each of our stories is worth sharing. Some of us may think we are damaged goods, but nothing could be farther from the truth. There's no reason to be ashamed of who we are, what we've gone through, or what our story is. Our story is what we've overcome. Our story is what God has used–our flaws, our mistakes, to mold us into the person we are today.
And guess what? Our imperfections may be just the thing that helps allow someone to know they are not alone.
Our story, your story may be just the story of courage, hope or strength that inspires someone else and speaks to their heart.
"Maybe life isn't about avoiding the bruises. Maybe it's about collecting the scars to prove we showed up for it." – Unknown
Life is a story.
What does yours say?