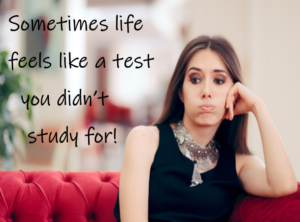 "When my kids become wild and unruly, I use a nice, safe playpen. When they're finished, I climb out." – Erma Bombeck
Ha. We chuckle, right? Such a funny quote by Erma Bombeck. I remember well those days as a young mother when locking myself in the bathroom for a momentary escape from my kids highlighted my list of goals.
Trouble is, as I wade through my adult life feeling as though I'm diagonally parked in a parallel universe, I continue to covet the same goals of escapement.
Let's face it, life is tough. And most of the tough stuff consists of circumstances we never expect which occur without warning. For example, when a family crisis forces us to take a hard left turn and grapple with navigating a new normal. When you're leaving the house for work and discover your washing machine has overflowed into a river cascading onto your laundry room floor. Or, when you find yourself amid a nightmare in a hospital emergency room battling symptoms you never saw coming.
Even routine events occurring throughout our day test our strength and patience. Deadlines go unmet. Household chores multiply. Relationships overwhelm. And when you take a deep breath, vowing to put your best face forward for your day, the back of your earring takes a nose-dive into the Styrofoam cup holding your morning smoothie.
Can I go hide in my blanket fort until Jesus comes?
I'm willing to bet you can relate to this madness.
One of my favorite beloved children's books is titled, "We're Going on a Bear Hunt" by Michael Rosen and Helen Oxbury. In the book, there's an adult with three children that set out on an adventure to hunt for a bear, all the while declaring, "We're not scared." Along the way, they encounter several obstacles: long, wavy grass—a deep, cold river—a big, dark forest—and a narrow, gloomy cave. Upon encountering each obstacle, they affirm three important steps critical to their journey.
We can't go over it.
We can't go under it.
We've got to go through it.
So it is with life's ongoing challenges. We can't go over our obstacles, we can't go under them, or even around them. We have to face each challenge that arises and go through the rough terrain so we can move past it.
In the book of John, chapter 16 Jesus speaks with his disciples regarding his impending departure and death, as well as their forthcoming denial of Him. No doubt the disciples were shocked and unsettled by this news, which is perhaps why Jesus followed up with these words of comfort and reassurance:
"I have told you these things, so that in me you may have peace. In this world you will have trouble, but take heart! I have overcome the world."  — John 16:33
To overcome is to defeat a struggle—to prevail over difficulty. By His death and resurrection, Jesus has overcome any-single-kind-of-trouble we may encounter with the promise that our suffering and sorrows will be only temporary.
Make no mistake about it. Jesus makes it clear we will suffer trials, imperfections, unavoidable pain, and plain 'ol bad days. But, He has already claimed victory on our behalf and offers us hope, courage and peace amid our difficulties.
God never guaranteed being a Christian would make for an easy life. His gift to us is His peace—a peace which comes from trusting Him in every aspect of our lives.
"The "peace" Jesus speaks of is not worldly comfort, or even happiness. This is the confident "rest" believers experience when they set aside anxiety and trust God to work out His will."
–www.bibleref.com
God's promise of His peace allows us to go through with confidence, all the while with the bold whisper, we're not scared.
 Father God, I know my troubles never catch you by surprise and that nothing is ever outside of your control. Help me remember your gift of peace amid my battles, knowing you have already defeated the enemy. Thank you for allowing me to walk through my trials with purpose and peace, allowing you to strengthen me in the process. In the name of Jesus, amen.