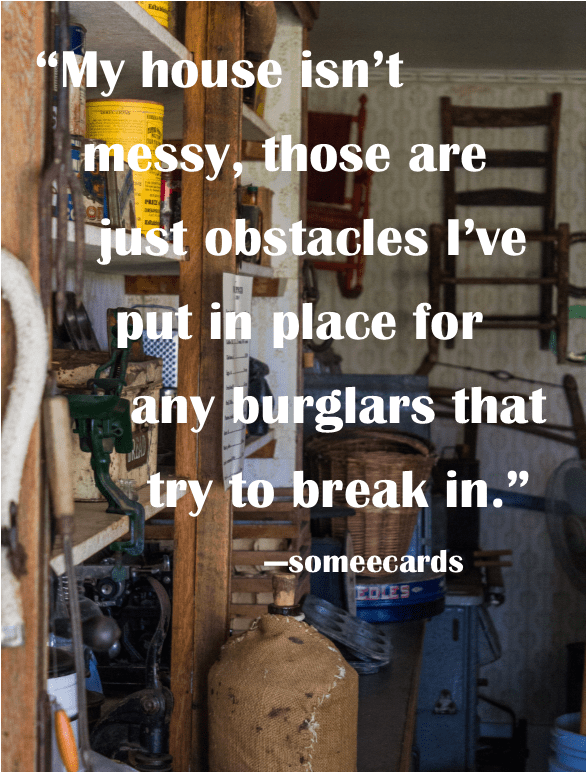 "For God is not a God of disorder but of peace." –1st Corinthians 14:33
It was a long time coming. I only wished there was such a thing as a gigantic spray bottle of 'Clutter Be Gone".
The idea was birthed a few years ago to put new flooring throughout our home. Simple. As hubby and I finally grew closer to putting feet to our plan however, our mindsets made a drastic shift. We would still renovate, but as we mapped out the remodel process and studied our surroundings, we came to a stark realization.
Twenty-five years had been dedicated to acquiring, collecting, and accumulating . . . stuff.
Some of our "stuff" had great stories to tell and frankly, were quite unique. Regardless, as we examined our belongings spilling from each cabinet, shelf, nook, and cranny, not to mention any available wall space, we acknowledged we'd let things get way out of order. We were overwhelmed. No longer enjoying our bounty of possessions, we'd become consumed by them. Simply shuffling our way through our garage (which held everything but our vehicles), besieged us with an anxious, depressing dread.
Surprisingly, when our external world wasn't in order, our internal world was also affected.
Can you relate?
Truthfully, clutter can breed chaos, interfering with our ability to focus on what's important. God gently began to show me "clutter" is not just the stuff on my floor. It's also the "stuff" in my life weighing me down, causing me to stumble, or clouding my priorities, all keeping me from living the life He intended for me.
Hubby and I resolved to de-clutter our environment and simplify our lives. As liberating as we hoped the outcome to be, we knew this would be a difficult task involving some painful decisions. Nevertheless, as we pulled up carpet, busted out tile, painted walls, loaded up dumpsters, and made several trips to Goodwill, we began to experience relief. We began to feel . . . free.
So, how do we de-clutter and bring order to our lives? Ask yourself the following:
What items need to be put away? Some things you may still need but have no present use for.
What items need to be fixed? Some things need to be cleaned up, or may be broken, in need of repair.
What items can be donated? Some things are no longer needed and could perhaps benefit someone else.
What items need to be discarded? Some things are harmful, toxic, or of no value to your life.
What items are worth keeping? Carefully select those things that bring meaning to your life while remembering, you can get rid of an item without getting rid of the memory.
The solution isn't easy. It's a process, and one I'm discovering will likely be ongoing. For me? The goal is to experience the empowering deliverance of managing my priorities and relationships over managing my stuff.
There's freedom at the end of the dumpster, my friend!