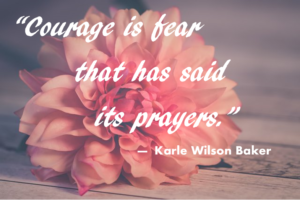 FEAR is my middle name!
Do you know what my BIGGEST fear is? PUBLIC SPEAKING . . . which I seem to find myself doing more often than not.
However, God has shown me something about fear which has made my bouts of panic a bit easier to navigate.
Allow me to share one of my many embarrassing stories.
I once served as the chair of the Education Committee for an organization. SO MUCH FUN to coordinate conferences, schedule speakers and plan special events, right? Little did I realize when I took that position . . . who do you think had to M.C. all those events? Me! I did NOT want to do that, but I had to.
As the first event was a few weeks away, I was in my closet picking out a killer outfit to wear because, especially ladies know, when you look good, you . . . feel good, right? And I thought maybe if I looked good, that might help me "speak" good.
I come across a beautiful cream-colored jacket with black swirls on it, and realized it was still new to me. I'd purchased it a few months ago and hadn't worn it yet.
Perfect!
On the morning drive to my very first event, butterflies had landed in my tummy and they were having a party. I voiced my anxiety to God.
"Why me, Lord? Why have you put me in this position?"
Then, the verse Philippians 2:13 popped into my head. I didn't know that verse. I actually suggested to God He may have made a mistake and meant to remind me of Philippians 4:13, but no . . . it was "2:13". I didn't have my Bible with me, and I arrived at the site.
After last-minute preparations, the time had come for me to begin the program.
I took the microphone in one hand, extended my free arm high and said, "Good morning!"
Immediate snickers rumbled through the room and, as I followed the line of vision of my peers, I discovered that there, dangling from my outstretched arm, was the price tag of that beautiful jacket.
In that moment, you'd better believe I desperately wanted to know what that scripture verse was.
I responded with a witty comeback and we all burst into laughter, which was the BEST thing that could've happened. It loosened up my jitters a bit and helped me get through what I had to do.
The FIRST thing I did when I got home was look up that verse God gave me.
You know what it says?
Philippians 2:13 says this: "For it is God who is at work in you, both to will and to work for His good pleasure."
That day I learned something.
Guess what?
It isn't about me.
It doesn't matter if I stumble over my words. It doesn't matter if I speak eloquently or not. It doesn't even matter if I have a price tag hanging from my pretty jacket.
All that matters is my willingness to show up and allow God to work in me for His good pleasure.
Now, does this mean that my nerves don't get the best of me anymore?
A resounding "NO!"
What it does mean is that now, if I've prayerfully placed my task in God's capable hands, I know He's "in it". I know He's in control and that He'll work through me according to His will.
Courage isn't the absence of fear. It's the ability to do something anyway, despite your fear.
"Fear is courage that has said its prayers."  —  Karle Wilson Baker
So, the next time you're facing a situation where your hands start getting clammy and your heart begins to flutter for whatever reason, step back . . . don't be nervous. Remind yourself that God is the one doing all the work anyway!