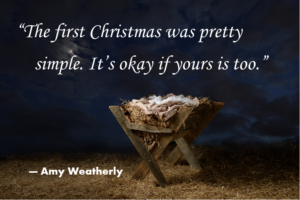 OMG . . . it's almost Christmas! I can tell 'cuz it smells like cinnamon and panic!
Yes, it's that time of year when the once childlike, joyful anticipation of "all things Christmas" rapidly turns into a frantic, stressful frenzy to GET EVERYTHING DONE. After all, we've got lots to do. We have Christmas cards to write, packages to mail, parties to go to, lights to look at, Christmas programs to attend, the perfect gifts to hunt for, and to wrap. There's decorating, cooking, baking, and Christmas caroling. All so much fun, and oodles of stress.
In addition to trying to fit in numerous extra tasks and activities to the already full calendar of our normal routines, add to that the avalanche of emotions that may surprise attack some of us . . . perhaps longings of joy-filled Christmases celebrated as a child, or maybe painful losses the season may remind us of.
Are you burning the proverbial Bath & Body Works Cocoa and Cream candle at both ends this season?
As we stand in long lines with impatient shoppers, we sometimes find ourselves dreading the very season we deem as our most favorite.
Sigh.
Whatever your case may be . . . stop.
STOP!
Stop getting your tinsel in a tangle.
Stop exhausting yourself from distracting "fluff" that robs your energy.
Stop allowing unrealistic expectations to steal your joy.
How do we keep the hustling and bustling at bay? Here are a few ideas:
Be flexible with your expectations. Be fair with yourself and only take on realistic goals with your holiday activities. Do the best you can do with exactly the amount of what you believe you can handle and find joy in the moment while you do.
Change your perspective. Often times, the best thing we can do to change our own stressors is to shift our focus to others. Donate food, clothing or money to someone less fortunate than you. Extending ourselves in service to others can bring refreshment, meaning, and unexpected joy.
Stay focused. Slow down, rest a bit, and stay focused on what the true meaning of Christmas really is. The Christmas spirit is reflected in the truth that Jesus was born without sin so we could have eternal life. Spend your holiday season reflecting on the power of this truth.
The reality is, you will still be okay if you don't get the "perfect" gift for someone, or if you don't get your decorations up, or if you don't attend every Christmas event, or if you don't bake those final loaves of Banana Bread for the neighbors. What really needs to get done, will. Perhaps you'll discover more meaning to your holiday season by snuggling under a warm blanket amid the illumination of your Christmas tree.
Busyness and activities are not what "makes" Christmas. It is a baby in a manger who came to earth to choose us. To choose to take our sins to a cross. To choose to suffer and die in our place so we may know everlasting life, peace, and joy.
"The first Christmas was pretty simple. It's okay if yours is too."  — Amy Weatherly
Let's not lose sight of the meaning and the joy in Christ that lasts longer than any Christmas season ever will.
Merry Christmas!