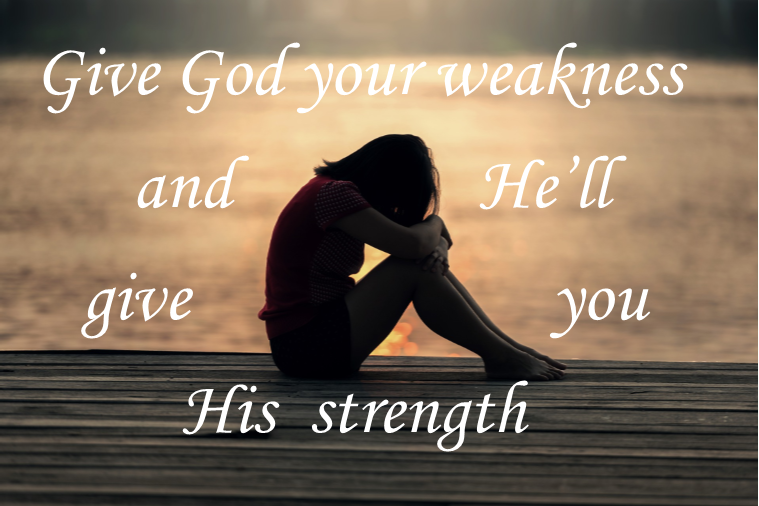 My heart sank as I swallowed the lump in my throat. I imagined what she must've been feeling.
The young woman caught my eye as I drove past the empty parking lot on my way home from the store. There she sat, on the pavement in front of her car, her feet straight out in front of her. Her face was buried in her hands; her shoulders shook up and down.
A young man crouched before her, his arms resting on his knees. His face appeared kind, gentle. He was speaking to her out of what appeared to be genuine concern. Just as he cupped her face in his hands, I drove beyond the couple . . . a gnawing tightness in my chest signaling a familiar echo.
I've been there.
Although I can't say I've planted myself on the pavement of a parking lot, I've often frequented the cold, tile floor of my bathroom with my head in my hands, sobbing.  That floor is my best "go to" when excruciating pain leaves me not knowing what to do.
I've been there, shocked by a Multiple Sclerosis diagnosis. I've been there, courting the makings of an anorexia disorder. I've been there, betrayed by a friend. I've been there, absorbing the blow of judgment from my past. I've been there, suffering the death of a family member. I've been there, wrestling when marriage got tough . . . and struggling when parenting got tough.  Many times, I've pulled up a seat on that tile feeling as though the wind had been knocked out of me and I couldn't breathe.
Have you been there too?
Take comfort from God's word:
"Fear not, for I have redeemed you; I have summoned you by name; you are mine. When you pass through the waters, I will be with you; and when you pass through the rivers, they will not sweep over you. When you walk through the fire, you will not be burned; the flames will not set you ablaze. For I am the Lord, your God, the Holy One of Israel, your Savior."  Isaiah 43:1-3
When we are at our weakest, God is at His strongest.
In our moments of sheer desperation or stabbing pain, God always shows up when we summon Him. He gently cups our face in His hands, assuring us He is right there with us on that tile floor, or parking lot pavement. Our faith is a choice to continue to trust Him, especially when we're navigating rough, difficult terrain.
Be encouraged today amid your trials, knowing if you are praying about it, God is working on it.