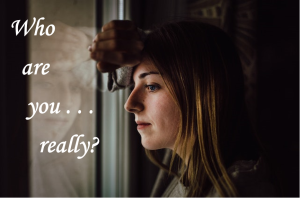 Just who do you think you are anyway?
Between the time I was a little girl with gooey mud squelching between my fingers while shaping mud pies in my backyard to the time I became a mother witnessing my daughter do the same, I've often wondered: who am I anymore?
As babies, we all start off in a natural state of joy, innocence and purity. Though we're cute and all,  we're born with a sin nature. Our identities start developing through circumstances in our lives and new personality traits are unveiled. Elements of family, friends, work, hobbies, religion, and life experiences—both positive and negative, shape our story. We grow up defining ourselves and our sense of purpose by the opinions of others.
Early on I transformed from a sweet, innocent baby into a challenging little girl. I'm unsure of specific leading factors, but I do recall the cries of my young heart into my adult years. I wanted to feel loved, known, and longed for someone to get me. In efforts to grasp onto an identity and fit into my world, I kept changing myself to be more loved and accepted.
When we change ourselves to obtain a love and peace only God can provide, we chain ourselves to the identity of a person we never wanted to become.
So, what is our identity? What we do? Who other people say we are? Who we used to be? What if we don't like who we used to be, or who we've become? Perhaps we can't blame our conditioning or culture for a sinful action we took in the past. As a result, we feel trapped in a version of ourselves rendering us unworthy. Even now we may crumble at the words of someone who hasn't lived one second of our life instead of trusting our own voice. It's difficult to remember who we were before others told us who we should be.
What has your story been?
Our past is not our story. Our achievements or our traumas are not our story. Our story is the destiny God has created for us. The true self God desires for us is to be people, made in His image, who walk in His power and authority—loved and known by Him.
By claiming our identity in Christ, we discover and embrace who God created us to be. How do we do this?
Own your story. Take inventory of how your life has been molded by your childhood, your circumstances, people, and experiences. Own your responsibility for the choices you've made in the past.
Acknowledge your feelings. Take some time to identify the array of emotions your story has brought you, both good and bad.
Trust and believe God has created you with intention. Abandon ideas of yourself that are not from Him. When you think you may be worse than you really are, rest in believing what God says about you.
God says this:
But you are a chosen people, a royal priesthood, a holy nation, God's special possession, that you may declare the praises of Him who called you out of darkness into his wonderful light (1st Peter 2:9).
Look at that. We have a royal identity. When circumstances of tragedy, hurt, or bitterness try to define us, we are His. Regardless of accolades, appearances, or the number of "likes" we get on Facebook fighting to claim our identity, we belong to Him. Despite our ongoing difficulties, we need to lean on something outside of ourselves for strength, purpose, and guidance.
But, but, but, you say. What about the voices? The enemy will continue to hurl demeaning insults at us intending to cast shadows of shame or confusion over our lives. But, those ugly voices can be silenced with the power of God's word and His affirmations of you. The enemy thrives on doing anything he can to cause you to doubt your value and remain stuck in a false illusion of who you are. He wants you to chase after things of this world to do more, have more, be more.
Our identity needs to be rooted in the arms of God. He doesn't need us to try harder—He wants us to trust Him deeper.
You don't need the world's approval, you already have God's. So go back, way back to that little girl sculpting mud pies in the back yard on a summer day. Be like her.
It's okay. You just forgot who you are and to whom you belong.
Welcome back.