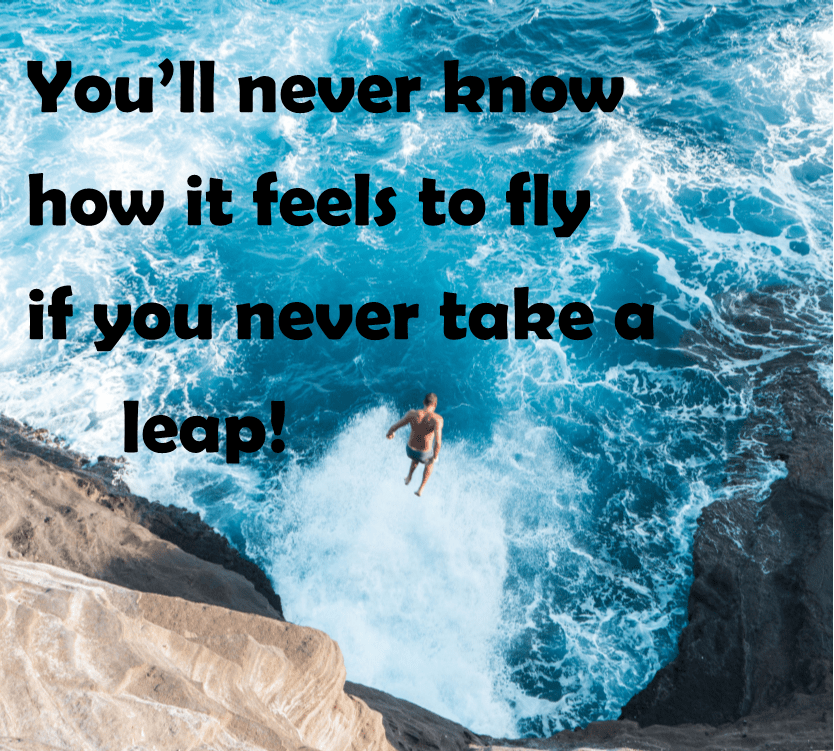 Motivational speaker, Zig Ziglar once said, "F-E-A-R has two meanings: 'forget everything and run', or, 'face everything and rise'." Can anyone take a wild guess at which choice I'm most inclined to choose?
(Crickets chirping).
You know the feeling. When you really want to do something, but then again—you kinda sorta don't.
It's like being challenged to jump off a cliff into a sparkling sea of refreshing water. Standing at the edge overlooking unknown elements, you partly hope a stiff wind would just catapult you forward, while another part of you would give your left eye to have a railing to cling to.
Change. Is. Hard. And might I add, scary.
In life, change is inevitable. Relationships change. Jobs change. Circumstances . . . change.
Sometimes we find ourselves planted at the edge of that cliff. We stretch out our arms to the side with one foot dangling forward, knowing full well any challenges and potential rewards will come, only by temporary, certain imbalance. Not to mention a bucket load of unknowns.
Have you been there? Yeah, me too.
An occasional breeze tickles our feet, beckoning us forward and yet . . . we remain frozen. Sigh. Why is that?
Speaking for myself, I often allow fear to get the best of me. I'm growing to discover however, that fear is not simply a desire to avoid something new or unknown. Perhaps fear is a means to protect myself from the possible pain of failure. Hmmm. I'm learning it's not always who I am that holds me back, but rather, who I think I'm not.
Can you relate?
Our mindset, my friend, can profoundly impact how you and I weather obstacles, and will determine whether we merely "go" through change, or grow through change.
"What you are afraid to do is a clear indication of the next thing you need to do."  — Ralph Waldo Emerson
Change is often necessary. Events, circumstances, or people force unavoidable alterations in our course of direction. Despite how scary it may be; however, a bit of magic often lies amid new beginnings. In the end, it is the chances we don't take that we'll find ourselves regretting the most.
So, what say you put your hand in mind and take a deep breath with me.
Sometimes . . . you just gotta jump!