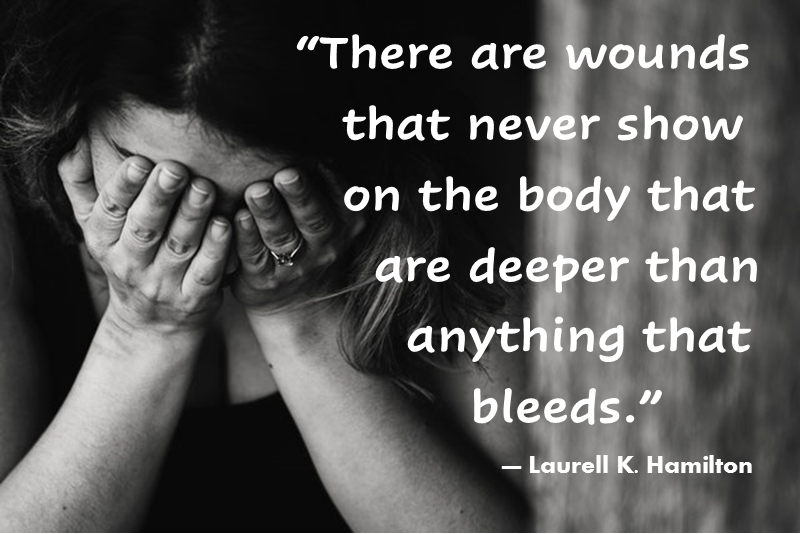 Inability to concentrate. Obsessive thoughts. Focusing inward. Negative outlook. Aches, pain. Fatigue. Avalanches of tears. False smiles. Sadness, self-blame, guilt, irritability . . . numb.
Star figure skater, Gracie Gold, describes it this way: "The feeling was like you're drowning and everybody else can breathe; it's like moving through peanut butter. It's like I was in this snow globe. I could see the world around me, but I was just stuck."
Depression.
My heart is heavy today with sharp twinges of pain for a dear friend suffering inside an ominous cloud of depression. Clinging to the phone, listening to my friend share her soul, I felt inadequate—at a loss for words. Helpless.
My friend and I are both firm believers in the God who created the universe. The God who is faithful to us, who fights for us . . . who delivers, comforts, strengthens and heals. My mind scrambled to find just the right scriptures to share, for which there are many, but in that instant, no words came.
Sometimes you just can't slap a happy verse on your pain.
The struggle of depression, for millions, is painfully real. The burden is heavy, affecting people from all walks of life. Factors contributing to depression run the gamut from hormones, medical conditions, life circumstances, and biology.
I learned Abraham Lincoln battled clinical depression for much of his life and at times, wouldn't allow himself to carry a knife for the safety of himself and others. Sadly, this reminded me of another friend of mine who, after battling in silence, ultimately took her own life six years ago.
Friends, she was a licensed mental health counselor.
What I wanted my friend to know at the other end of the phone line was that, above all else, she was not alone. Did you hear that? She is not alone.
You are not alone.
Many people, perhaps you, fight depression in silence—for the sole reason of how our society has stigmatized this condition and those who suffer from it. Isn't it just like you and me, in our sin nature, to judge others for something we know absolutely nothing about? I'm betting our ignorant mindset actually makes it worse for those battling this condition, causing him or her to blame themselves and feel guilty for their suffering.
Shame on us. Having a faith in our mighty God doesn't mean if we pray hard enough, we won't have struggles. Rather, having faith means we trust God to walk alongside us through our storms, which do come . . . and sometimes stay.
For those suffering with a spirit of heaviness, licensed family therapist, Dr. Linda Mintle offers a few nuggets of encouraging, helpful suggestions.
Be Mindful of Diet. You've probably heard the saying, "Garbage in, garbage out." Well, it's certainly true of food. The "fuel" we give our body really can have an impact on how we function, how we feel, how we move through our day. Look for foods high in protein to give you energy. Take care of your body and it will help take care of you.
Exercise. In the same way food can make a difference with our outlook, so can exercise. WebMD explains: "Exercise releases endorphins. Endorphins interact with the receptors in your brain that reduce your perception of pain and trigger a positive feeling in your body." You don't have to join a gym or run a marathon. Just move. Take a walk, go for a bike ride, or my favorite . . . dance in the kitchen. This may help you feel a tad bit better.
Practice Behavioral Activation. This is a bona fide therapy term which means to "act as if". The idea here is that sometimes, our body and mind will come along with us if we "act as if" we feel what we are desiring. Acting as if we are in control and experiencing joy may ultimately help us to do so.
Serve Others. Thinking about others and being of service to someone else can help take our minds off our own problems. It works.
Change Your Thoughts. Yeah, I know—not so easy. Life Coach Brooke Castillo says this:
"Our thoughts are what create our feelings, our feelings drive our actions (or inactions), and our actions create results." We need to train our minds to speak positively to ourselves about ourselves if we are to effect change. And yes, we have to work at doing this!
Have the Hope that Christ is Working in You. He is, you know. He's working in you, and longs to help you. Allow Him to. Remember, you're worth His unconditional love.
I'm adding this one: Don't be afraid to get help. There are wonderfully skilled professionals who will hear you, and yes, can offer tried and true, effective medications that can help you.
So, I'm thinking God's unwavering faithfulness to us has little to do with our circumstances, but rather more to do with His steadiness amid our circumstances. If you're weighed down by a spirit of depression, fight. Fight to see God's perspective for you with everything you have. Fight to grasp the power of God's love for you with His word. Don't go it alone. Allow a trusted friend or two to fight with you. Open your heart to God's power to help you. It's one of the things He's best at.
Finally, I must share something I read by Lindsay Elizabeth in 'Faithwire'. Her words captivated me and offer certain hope.
"Depression is a storm that overtakes the souls of many. It's a storm that brings monstrous waves, huge swells, and at times makes you feel like you are going to capsize—possible drown. Even though you might feel hopelessly lost, remember that Jesus is in that boat with you. The Bible was not created for us to read and feel good about every day, but to speak truth into our lives. One of these important truths is the strength and support God will give to you when you feel like your own strength and support has vanished. Simply reading Bible verses won't heal you of your depression, but they will help you ground yourself in TRUTH so that when these feelings arise you can remember who you are rooted in."
Friends, the storm you are in will eventually run out of rain.
Praying peace and hope for you.
"The Lord is close to the brokenhearted and saves those who are crushed in spirit." – Psalm 34:18
If you or someone you know needs help or just someone to talk to, the following number is a trusted resource for assistance:
National 24-Hr. Crisis Hotline: 1-800-273-8255 or text to " 741741"