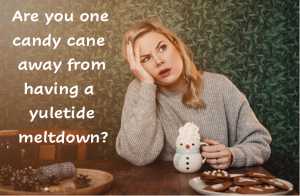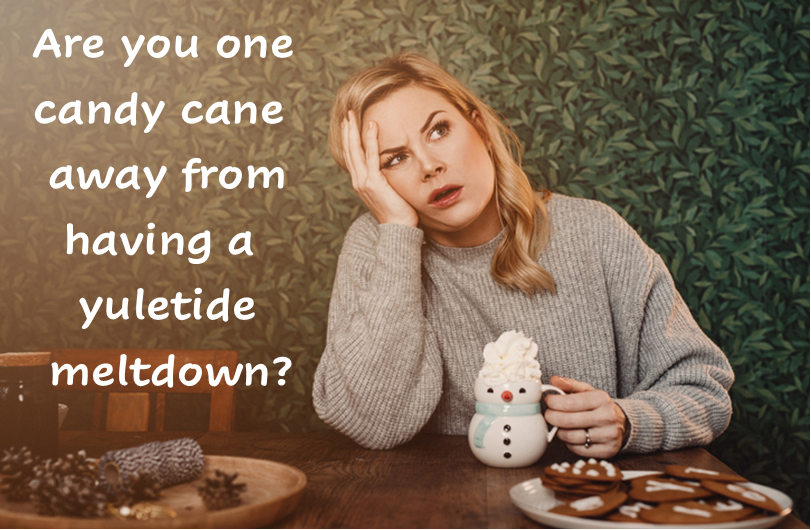 Yep—you've managed to put away your card tables, folding chairs, and autumn linens, and you've polished off the last of the Thanksgiving leftovers. Just as you are about to relax from your recent fall gathering, your neighbors begin hanging lights from their rooftops and the familiar ring of Christmas carols on the radio ushers in the next holiday.
Christmas.
At first glance, you're filled with joy, excitement, anticipation. But then, as you realize you're about to attempt to cram 25 days of extra activities and tasks into your already-crazy schedule, a couple of unwelcomed guests arrive at your door.
Stress and anxiety.
Suddenly, you're consumed with responsibilities of shopping, baking, card-writing, entertaining, holiday events, and cleaning (again). As you immerse yourself into the season, pecking away at your to-do list, you inevitably find yourself plopped in front of your half-decorated Christmas tree waving a white dish rag in surrender. Indeed, you arrive at a point when you're one candy cane away from a yuletide meltdown.
Sigh. Why does it have to be this way?
It doesn't.
Take a long moment to step away from the onslaught of advertising and flashy holiday images bombarding your psyche and utter this simple phrase—enough. That's right, you've had enough. Don't allow your surroundings (or perhaps your family and friends) dictate what must be done for you to enjoy a meaningful holiday. If you are burning the candle at both ends out of obligation in efforts to cross stuff off a list, you're not enjoying anything anyway. Don't let anything or anyone steal your joy.
"But, but, but," you say, "You don't understand the demands of my responsibilities." You're right, I don't, nor do I pretend to have this all figured out. I do believe though, there are helpful ideas to embrace that just make sense.
Here are a few shifts in perspective that can go a long way in helping you keep your tinsel from tangling, allowing you to fully enjoy this magical season.
Be realistic. Embrace the reality that life is not perfect, and never will be. It's truly okay if the ideas in your head don't match your real-life holiday scenario. If your tree is a bit lop-sided or you spill gravy on your favorite Christmas sweater, the world won't come to an end. Instead, use your moments to create fond memories you can laugh about later.
Minimize your tasks. You can do anything, but you can't do everything.  Simplify items on your to-do list. Purchase meaningful gift cards rather than spending countless hours searching for the perfect gift. Whip up an easy holiday snack mix in bulk for treat bags rather than committing yourself to baking every single person on your list a homemade loaf of banana nut bread.
Set aside differences. When you gather with difficult family members, co-workers, or acquaintances at holiday gatherings, appreciate their differences and uniqueness to preserve your sanity and integrity. Ask yourself if it's worth allowing others to upset you. (It's not.) Accept them as they are and move on.
Learn to say no. You can do it. Be aware of your boundaries and do your best to protect your freedom. If you don't, your circumstances will only lead to feeling resentful and overwhelmed.
Keep healthy habits. Eating healthy snacks, getting enough sleep, adding movement to your day will provide you with better energy and help you manage your responsibilities more effectively.
Be mindful. Manage your expectations and monitor your stress, moment by moment, so you can halt impending chaos and meltdowns before they develop.
Give yourself permission to have fun. Take time out to do some deep breathing, read, go for a walk, watch a Christmas movie. It isn't selfish to care for yourself. Clearing your mind helps reduce stress.
Remember the reason for the season. God's very presence arrived on the earth in the person of Jesus Christ to be with us, to make a way for us, and to be in relationship with us. There's no better motive than this to keep fresh perspectives (and our emotions) in check so we may appreciate and respect the true meaning of Christmas.
So, as you navigate this Christmas season, raise your mug of hot cocoa to your Christmas tree with half  burned out lights. Take a deep breath, smile, and allow a chuckle to escape your lips. You'll be glad you did.
Keep calm and Merry On!
What are some of the ways you keep yourself from being steamrolled at the holidays? Please leave me a comment. I'd love to hear your ideas.