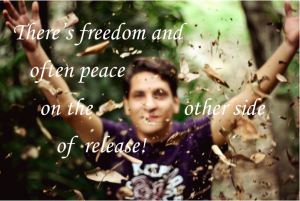 "A mother's job is to teach her children to not need her anymore. The hardest part of that job is accepting success."   – Anonymous
Friends, I'll be honest. I've been navigating my recent days with a painful lump lodged in my throat and tears free-falling down my face. A few months ago I had to say goodbye to my youngest son as he begins pursuing his dreams and goals many miles away from me!
Oh, I know I'm so not alone. Many of you have recently experienced some milestone events with your kids as the school year began. Some have entered into high school, some have gone off to college, and maybe . . . maybe some of you have experienced your five-year-old turning his or her back on you, bounding up the stairs, as they've been ushered into kindergarten.
Yeah, you felt that painful lump in your throat too, didn't you?
Reality is, there's a reason. The reason for that painful pressure in your head accompanied by unannounced waterworks is simple.
We have to let go.
As I've been learning to let go of my son, I've reflected on so many things in my life when I've had to do the same:
. . . letting go when my daughter had the nerve to leave my house two years ago and get married
. . . letting go when I transitioned out of a career that for several years served as my sole identity.
Even now, I realize I must let go of things in my life:
. . . relationships that hinder me rather than build me up and feed my soul
. . . insecurities about my future
. . . painful mistakes from my past.
In the Bible, Ecclesiastes says this:
"A time to seek, a time to lose, a time to keep, and a time to cast away." Ecclesiastes 3:6
Sometimes, we have to let go.
This doesn't happen all at once. This is not a one and done task. It's a process. But here's the thing—if we don't let go, we hold ourselves hostage . . . prisoners of our own circumstances and we're not able to ever move forward. Consider also, if people are involved, when we don't allow ourselves to move forward, we also keep others in our lives, like our kids, from moving forward too.
Ouch.
So, what do you need to let go of in your life right now?
Take heart and remember that freedom and sometime peace lies at the other end of release.
I'll help you learn to let go if you help me, deal?
Godspeed on your journey!