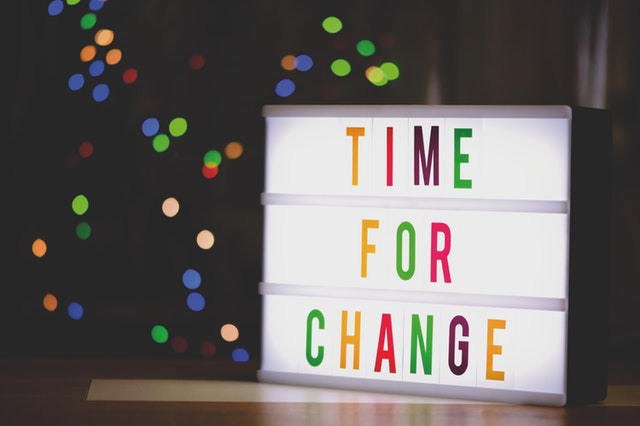 So . . . January may be over, but a New Year has just begun!
As I've been reflecting on my "word of the year" for 2020, I thought I'd share some thoughts about change.
My thoughts are best explained with a funny story.
Three or four years ago, my husband Jeff was sitting in front of a representative at a bank where we have our business account.
"Mr. Van Beck," she said, "due to your long-standing relationship with our bank, you and your wife qualify for a remote deposit scanner valued at $350.00."
Later that evening when I was chatting with Jeff, he delivered the news of our free offer, to which, WITHOUT HESITATION, I responded with the following come-backs:
"Nope, not interested."
"I can't possibly learn how to use such a thing."
"I'm not ready for this right now."
"I'm overwhelmed at the thought of this."
"I can't."
I . . . can't. Unfortunately, these words have been a common element of my vocabulary for quite some time. Jeff rolled his eyes at me and we politely declined the offer.
Fast-forward. Three or four years later, just recently, I was sitting in front of a bank representative at the same banking institution and the customer representative said these words:
"Mrs. Van Beck, due to your long-standing relationship with our bank, you and your husband qualify for a remote deposit scanner valued at $350.00," to which I replied:
"Cool!"
Later that evening, I shared the exciting news with Jeff and he once again rolled his eyes, adding a tsk, tsk, tsk to boot!
We accepted the offer.
I easily figured out how to hook the scanner up to my computer and sync it with my online banking, and guess what? I love that machine. I mean, now I can do my bank deposits in my pajamas! I recall thinking, "Why didn't I accept this offer sooner?"
It only took me a few years to go from "I can't!", to "Cool—bring it!"
Sigh.
So, what changed? Of course, I did in some ways . . . but how?
I simply changed my perspective, my outlook. I had a bit of a mind-shift if you will, viewing what was presented to me in a different way this time around.
Sounds so easy, right? Over time, I've determined that sometimes it's just that easy, and just that difficult.  But I did it. That's how I know you can too.
As the new year has begun, I admit not being a big fan of composing a laundry list of New Year's Resolutions for myself. However, I love the idea of a "Word for the Year". My word for 2020?
Change.
Yep, I'm in the process of changing "me" in some ways. My perspective. How I process things that happen to me and, in positive ways, how I respond to people and events in my world. It'll do me good to change a few of my daily habits too, so I'm working on some personal areas as well.
Now, will I always respond with, "Cool, bring it on!"? Probably not. After all, I'm still working on climbing out of the comfort of my comfort zone. However, I will be trying to more thoughtfully evaluate things before I respond to them.
Oh, and remember my sentiment about 'not being ready'? Yeah, don't wait to be "ready" for something. It's a trap. If we wait until we feel ready to take on a new challenge, chances are likely we'll never do it.
What about you?
What is your "Word for the Year"?
Or, perhaps there are areas in your life you might think about changing too. I'm learning that making a few minor tweaks in how you "do you" (or how I "do me") can have a profound impact on how we better enjoy life to its fullest.
So, the process of my banking deposits didn't become easier by chance. It became easier by change.
And so it is with life!
"Each of us has the opportunity to change and grow until our very last breath. Happy creating."
                                                                                      — M.F. Ryan